Vibrant watercolor blue forget me not flowers name OtterBox symmetry iPhone 8 plus/7 plus case
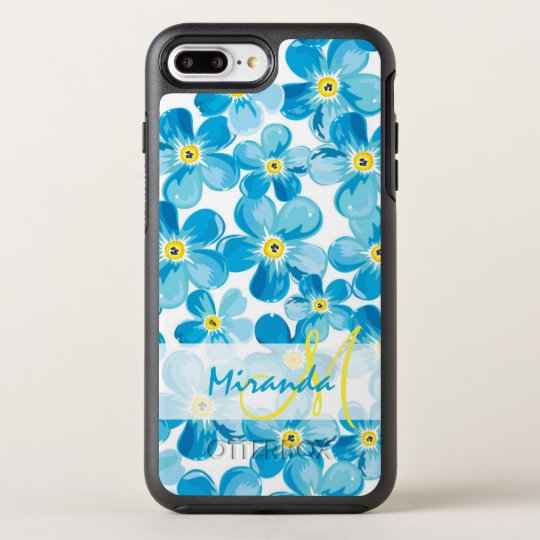 Apple iPhone 8 Plus/7 Plus  
Style: OtterBox Apple iPhone 8/7 Plus Symmetry Case
You like to drop it like it's hot... except when it comes to your phone. Luckily, OtterBox cases are here to save the day! Constructed by moulding two formidable materials together, Symmetry cases have the strongest protection in the slimmest style. Dual-layer defense guards against drops and tumbles. From the building site to your toddler's hands, it's ok to drop it like it's hot!
Designed for the Apple iPhone 8 Plus/7 Plus
Materials: Synthetic rubber and polycarbonate
Construction: Two shock absorbing materials are moulded together for the strongest protection in the slimmest case
Screen bumper: Raised, beveled edge helps protect touchscreen
Slim profile: Sleek design slips easily into pockets and purses
Easy installation: One-piece design slips on and off in a flash
Custom-shaped for perfect fit in an effortless installation
OtterBox cases are protected by warranty for a period of 1 year from original purchase date.

This product is recommended for ages 6+
Vibrant watercolor blue forget me not flowers name OtterBox symmetry iPhone 8 plus/7 plus case
Beautiful vibrant watercolor blossom blue forget me not flowers, name & monogram design on white. At the bottom name and monogram on trasparent white ribbon. Forget-Me-Not plants symbolize true love. The forget-me-not flowers are a medium, "true blue". And as the name suggests, they are given or used to decorate gifts with the hope the recipient will not forget the giver. It also symbolizes faithful love and memories. The giver hopes the recipient will always faithfully remember him or her. Great flowers for springtime and love. # 2815 Myosotis from the Greek is a genus of flowering plants in the family Boraginaceae. In the northern hemisphere they are commonly called forget-me-nots or scorpion grasses. The common name "forget-me-not" was calqued from the German Vergissmeinnicht, and first used in English in 1398 AD via King Henry IV. Similar names and variations are found in many languages. Myosotis alpestris is the state flower of Alaska. Plants of this genus are commonly confused with Chatham Islands forget-me-nots which belong to a related genus, Myosotidium. Myosotis have 5-merous actinomorphic flowers with 5 sepals and petals. Flowers are typically 1 cm diameter (or less), flat, and blue, pink, white or yellow with yellow centres, growing on scorpioid cymes. They may be annual or perennial with alternate leaves. They typically flower in spring or soon after snow-melt in alpine eco-systems. forget+me+not+flowers, watercolor+blue+flowers, blue+yellow+flowers, blue+forgetmenots, bright+blue+blossoms, blue+yellow+flower+heads, spring+summer+blue+floral, wibrant+blue+flowers, tribute+love, scorpion+grasses, Myosotis

Artwork designed by
There are no reviews for this product yet.
Product ID: 256532116371934462
Designed on