The Sun & Moon Korean Folk Tale Canvas Print
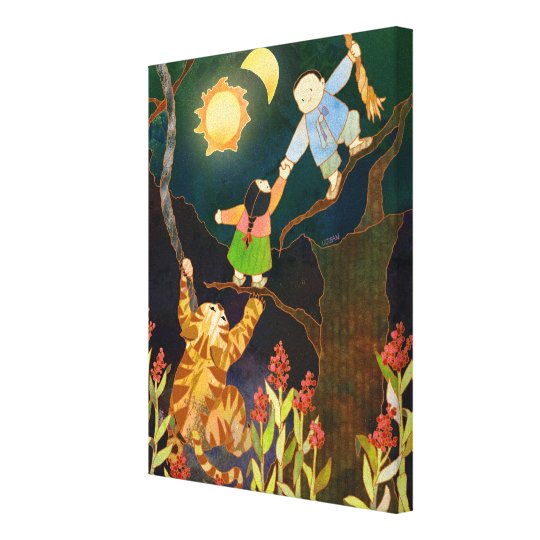 Media Type: Premium Wrapped Canvas (Gloss)
Zazzle's matte canvas is made from an acid-free cotton-poly blend and features a special ink-receptive coating that protects the printed surface from cracking when stretched. Made with a tight weave ideal for any photography or fine art, our instant-dry matte canvas produces prints that are fade-resistant for 100+ years.
The Sun & Moon Korean Folk Tale Canvas Print
A brother & younger sister got chased by a tiger at night, and they climbed up a big tree. When the tiger found the way to get up there, the children prayed to god to rescue them from the danger. God responded to the prayer and let down a rope, and the children were pulled up to the sky. After seeing this, the tiger also prayed to god for a rope, and a rope came down. But, alas, it was a rotten one! The tiger, therefore, fell in the middle of the air and landed on a millet field. The brother went up into the sky and became the moon, and the sister, who was shy and was afraid to be alone at night, became the sun. (There are actually more to say about the story, but I only described the things which are related to the image!)
There are no reviews for this product yet.
Product ID: 192941348579160155
Designed on