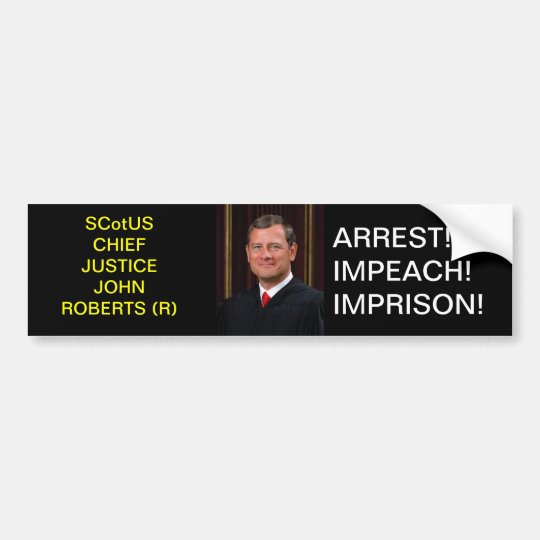 Style: Bumper Sticker
Entertain the cars sitting behind you in traffic with a custom bumper sticker. Make your car a reflection of you and your personality, show off your particular politics, or brag about your honor roll child! Get your point across with this quality bumper sticker that will outlast heavy rain, intense sunlight, and the most severe of traffic jams.
Dimensions: 3"l x 11"w
Made from durable white vinyl with a strong adhesive back that will hold up under the most severe of conditions
Please note, stickers are fully printed and are not translucent or clear
100% weatherproof
Printed with water-resistant ink that won't fade or run
ROBERTS BUMPER STICKER
"America is a nation of LAWS!" Have you heard that political rhetoric? Isn't it scary? When most of us imagined this country was a nation of people, first! The law isn't divine. It isn't Christian oriented. It's a matter of interpretation. And those who are vested with the highest and untouchable authority to interpret, are the representatives of the supreme justice of the land. Until now. Until June 28th 2012, when a blatant abomination was put into writing. Jurist corruption! Who governs the Supreme Court? NO ONE! If anyone ever wanted to see the closest thing to the metaphor that describes the god's of mythology, they have but to look to their image and likeness at the Supreme...Court! Robes, High seats like unto thrones. 9 of them! All powerful, untouchable, life long! Only this time one of them made the mistake of making it obvious this country isn't free nor has it ever been. When Justice Scalia once said that our American Constitution is a "dead document", it should have forewarned all of us as to the mind set of the supreme authority of this land. With the deciding vote of Chief Justice Roberts regarding the Penalty attached to the individual mandate, it left no doubt. The abomination and the lie! When SCotUS said the "individual mandate" was Unconstitutional that was great and obvious news to the rest of us. So then how is it that Robert's decides the PENALTY that would apply for that same individual not accepting a program under the affordable health care act, can legally be applied as a Constitutional TAX to that individual for whom the mandate was determined to be unconstitutional!? It's a tax with no teeth! With income tax, i.e. indentured servitude or slavery, if the working tax payer doesn't pay what they owe the government for their right to earn a living, the government, through the authority granted unto the IRS by Congress, will take everything that citizen owns. Down to the last dime in their bank account. However, with the penalty applied for non-compliance to the terms and conditions of this "Affordable Health Care Act", (aka/ Obama Care, aka/ Socialized Medicine) , they can't do that! So what happens? THE REVOLUTION! When we're billed for that "penalty" through our tax, we simply don't pay it! And if we really want to send a message, send that bill directly to Chief Justice Roberts! Why? Because until the day arrives when corrupt USSC Jurists can be arrested, impeached and imprisoned, malpractice law should be costly! Dear Mr. Roberts, As a Justice on SCotUS, you sit for life. And as such after June 28th 2012, you shall SUCK FOR LIFE! A I I Call me, "optimistic".
There are no reviews for this product yet.
Product ID: 128257235609846701
Designed on