Leif Erikson Statue, Iceland, 8x12 Photo Print
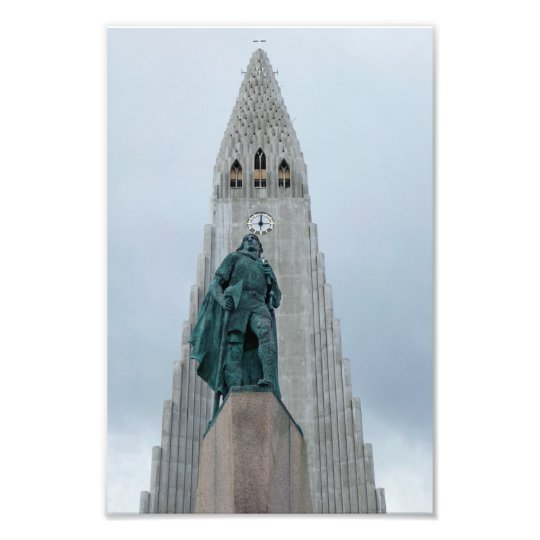 Media: Kodak Professional Photo Paper (Satin)
Developed specifically for darkroom printing, Kodak photographic paper is a premium silver-halide paper designed to dramatically enhance colors, while maintaining consistent tonal reproduction.
Leif Erikson Statue, Iceland, 8x12 Photo Print
"Leif Erickson Statue" by Catherine Sherman. A statue of Leif Erikson or Leif Ericson stands in front of Hallgrimskirkja, a church in Reykjavik, Iceland. Erikson (c. 970 – c. 1020) was a Norse explorer from Iceland. He was the first known European to have discovered continental North America (excluding Greenland), before Christopher Columbus. The statue, by Alexander Stirling Calder in front of the church, predates its construction. It was a gift from the United States in honour of the 1930 Althing Millennial Festival, commemorating the 1000th anniversary of Iceland's parliament at Thingvellir in 930 AD. Hallgrímskirkja ( church of Hallgrímur) is a Lutheran (Church of Iceland) parish church in Reykjavík, Iceland. At 74.5 metres (244 ft) high, it is the largest church in Iceland and among the tallest structures in Iceland. The church is named after the Icelandic poet and clergyman Hallgrímur Pétursson (1614–1674), author of the Passion Hymns. The church is in the centre of Reykjavík. It's is one of the city's best-known landmarks and is visible throughout the city. You can take an elevator to the top to an observation tower, where you can look out over the city and mountains. If you look closely, you can see people with cameras looking out of the windows in the tower. It took 41 years to build the church: construction started in 1945 and ended in 1986.
There are no reviews for this product yet.
Product ID: 190941251731094437
Designed on