Browse stunning designs, created by our community of independent artists around the world!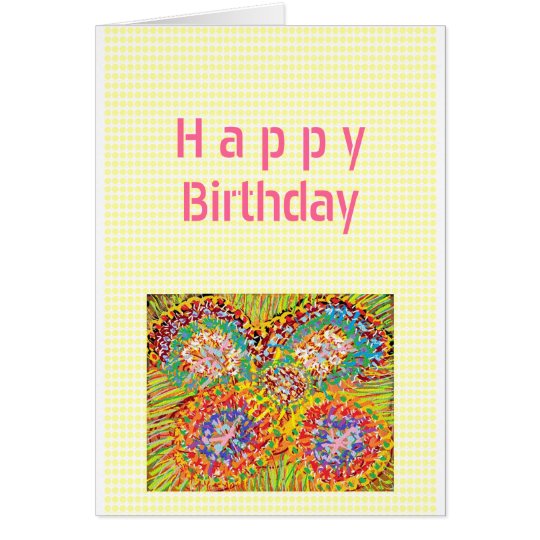 17 pt thickness / 120 lb weight
Light white, uncoated matte finish with an eggshell texture
Details

Details
Standard (12.7 cm x 17.8 cm)
Details
Small (10.8 cm x 14 cm)
- $0.60

Details
Big (21.6 cm x 28 cm)
+ $4.45

Size: Standard (12.7 cm x 17.8 cm)
Birthdays or holidays, good days or hard days, Zazzle's customized greeting cards are the perfect way to convey your wishes on any occasion. Add a photo or pick a design and brighten someone's day with a simple "hi"!
>Dimensions: 12.7 cm x 17.8 cm (5" x 7") portrait or 17.8 cm x 12. 7 cm (7" x 5") landscape
Full colour CMYK print process
All-sided printing for no additional cost
Printable area on the back of the card is 7.6 cm x 10.2 cm (portrait) or 10.2 x 7.6 cm (landscape)
Standard white envelopes included
Paper Type: Matte
The most popular paper choice, Matte's eggshell texture is soft to the touch with a smooth finish that provides the perfect backdrop for your chosen designs.
Light white, uncoated matte finish with an eggshell texture
Paper is easy to write on and won't smudge
HAPPY Birthday Card
Enjoy and be yourself. Happy Birthday in many languages Key to abbreviations: inf = informal, frm = formal, >m = said to males, >f said to females, m = said by males, f = said by females. Language Happy Birthday Afrikaans Gelukkige Verjaarsdag Albanian Gëzuar Ditëlindjen Aleut Raazdinyaam Ugutaa Amharic መልከም ልደት (melekame lidete) Arabic (Modern Standard) (kul 'am wa antum bekheir) كل عام و أنت بخير (eid mīlad sa'aīd) عيد ميلاد سعيد Arabic (Egyptian) كل سنة و إنت طيّب (kull sana wa inta tayyib >m, kull sana wa inti tayyiba >f) و إنت طيّب response - (wa inta tayyib >m, wa inti tayyiba >f) Armenian (Eastern) Ծնունդդ շնորհավոր (Ts.nundet shnorhavor) Armenian (Western) շնորհաւոր ծննդեան տարեդարձ (shuhnorhavor dzuhnuhntyan daretarts) Aromanian Ti multsã-anji! Uràri cu-ucazea-a dzuùãljei di-aflari Azerbaijani Ad günün mübarək Basque Zorionak zuri Belarusian З днём нараджэння (Z dniom naradžennia) Bengali শুভ জন্মদিন (shubho jônmodin) Bhojpuri जन्मदिन मुबारक हो (janmdin mubarak ho) Bosnian Sretan rođendan Breton Deiz ha bloaz laouen Kalz a vloavezhioù all Bulgarian Честит рожден ден (Čestit rožden den) Catalan Per molts anys / Bon aniversari / Moltes Felicitats Cebuano Maayong pagsaulog sa adlaw nga natawhan (formal - Happy Birthday is also used) Chamorro Felis Kumpliåños / Biba Kumpliåños Chechen Вина де декъала хуьлда хьан (Wina de deqil xilda ha) - m Йина де декъала хуьлда хьан (Yina de deqil xilda ha) - f Chinese (Cantonese) 生日快樂 (sàangyaht faailohk) Chinese (Hakka) 生日快樂 (sang1ngit7 kwai5-lok8 Chinese (Hokkien) 生日快樂 (Sen-jít khoài-lók) Chinese (Mandarin) 生日快樂 [生日快乐] (shēngrì kuàilè) Chinese (Shanghainese) 生日快乐 (sinni kualoq) Cornish Penn-bloedh Lowen Croatian Sretan rođendan Czech Všechno nejlepší k narozeninám! Danish Tillykke med fødselsdagen Divehi (ufaaveri ufandhuvaheh) އުފާވެރި އުފަންދުވަހެއް Dutch Gelukkige verjaardag Gefeliciteerd met je verjaardag Fijne Verjaardag Van Harte Gefeliciteerd Van Harte Gefeliciteerd met je verjaardag Esperanto Feliĉan datrevenon / Feliĉan naskiĝtagon / Feliĉan naskiĝfeston Estonian Palju õnne sünnipäevaks Faroese Tillukku við føðingardegnum Fijian Vanuinui vinaka ki na nomu siga ni sucu Finnish Hyvää syntymäpäivää Flemish Gelukkige verjaardag French Joyeux anniversaire / Bon anniversaire Bonne fête (in Quebec) Friulian Bon Natalizi Galician ¡Bon aniversario! ¡Feliz aniversario!. Georgian გილოცავთ დაბადების დღეს (gilocavth dabadebis dghes) - frm გილოცავ დაბადების დღეს (gilocav dabadebis dghes) - inf German Alles Gute zum Geburtstag Herzlichen Glückwunsch zum Geburstag Greek Χρόνια Πολλά! (Hróña Pollá) Χαρούμενα Γενέθλια! (Harúmena genéthlia!) Gujarati જન્મ દિન મુબારક (janm din mūbārak) Hawaiian Hauʻoli Lā Hānau Hebrew (Yom Huledet Sameakh) יום הולדת שמח Hindi जन्मदिन मुबारक हो (janmadina mubārak ho) सालगिरह की हार्दिक शुभकामनायें (sālgirah kī hārdik śubhkāmnāyeṅ) Hmong Zoo Siab Koj Hnub Yug Hungarian Boldog születésnapot Icelandic Til hamingju með afmælið Ido Bona / Felica nasko-dio Indonesian Selamat ulang tahun Interlingua Felice anniversario Inuktitut ᓇᓪᓕᐅᓂᖅᓯᐅᑦᓯᐊᕆᑦ (Nalliuniqsiutsiarit) Irish (Gaelic) Breithlá sona duit / Lá breithe shona duit Italian Buon compleanno Japanese お誕生日おめでとうございます (otanjōbi omedetō gozaimasu) Jèrriais Bouôn annivèrsaithe Kannada ಹುಟ್ಟು ಹಬ್ಬದ ಶುಭಾಶಯ (huṭṭu habbada śubhāśaya) Kazakh Туған күнің құтты болсын! (Twğan küniñ quttı bolsın!) - inf Туған күніңіз құтты болсын! (Twğan küniñiz quttı bolsın!) - frm Khmer រីករាយថ្ងៃកំណើត (rīkarāyothṅaykomṇə̄ta) Kinyarwanda Isabukuru rwiza Klingon qoSlIj DatIvjaj Korean 생일축하합니다 (saengil chukha hamnida) Kyrghyz Туулган күнүң менен (Tuulgan kunun menen) Latin Felix dies natalis / Felix sit natalis dies Latvian Daudz laimes dzimšanas dienā / Apsveicu dzimšanas dienā Limburgish Gelökkige verjaordaag Lipen Søerjehn (Festoy Nensktag) Lithuanian Su gimtadieni / Sveikinu gimtadienio proga Lojban terjbe.ui Luxembourgeois Vill Gléck fir däi Gebuertsdag! (inf) Vill Gléck fir äre Gebuertsdag! (frm) Macedonian Среќен роденден (Sreken rodenden) Malay Selamat hari jadi / Selamat hari lahir Malayalam ജന്മ ദിനാശംസകള (janma dina ashamsakal) Manx Laa-ruggyree sonney dhyt Māori Rā Whānau ki a Koe! Marathi वाढदिवसाच्या हार्दिक शुभेच्छा (vāḍhivsācyā hārdik śubhecchā) Mongolian Tєрсєн єдрийн баяр хvргэе (Tersen edriin bayar hurgeye) Nepali जन्मदिनको शुभकामना! (janmadinko shubhakamana) Ndebele Langelihle lokuzalwa Norwegian Gratulerer med dagen / Gratulerer med fødselsdagen Occitan Aürós aniversari! Pashto د زیږیدلو کلیزه دی مبارک شه (de zaigaidelo kaleeza dai mubarak sha) Persian (tavallodet mobārak) تولدت مبارک Polish Wszystkiego najlepszego z okazji urodzin Wszystkiego najlepszego! Portuguese Parabéns / Feliz aniversário Punjabi ਜਨਮ ਦਿਨ ਮੁਬਾਰਕ। (janam din mubārak) Romanian La mulţi ani Russian С днем рождения (S dniom roždenija) Sabethir (Erathie'hyavras) Samoan Manuia lou Aso Fanau Scottish Gaelic Là breith sona dhuit/dhuibh Serbian Срећан рођендан (Srećan rođendan) Sesotho Letsatsi le monate la tswalo Shona Uve nezuva rakanaka rekuzvarwa Uve nebhavhadhe rakanaka Sindarin Nostor veren Sinhala සුභ උපන් දිනයක් (subha upan dinayak) Slovak Všetko najlepšie (k narodeninám) Slovenian Vse najboljše (za rojstni dan) Spanish ¡feliz cumpleaños! Swahili Nakutakia mema kwa siku yako ya kuzaliwa! Siku-kuo ya zaliwa njema! Furaha Ya Siku Ya Kuza Liwa! Swedish Grattis på födelsedagen Tagalog Maligayang kaarawan (Happy Birthday) Maligayang bati sa iyong kaarawan (Happy/Joyful/Merry Wishes on your Birthday) Nawa'y pagpalain ka ng Diyos ng marami pang kaarawan (May God bless you with many more birthdays to come) Tamil இனிய பிறந்த நாள் நல்வாழ்த்துக்கள் (iniya pirandha naal nalvaazthukkal) Tetum Ksolok Loron Tinan Nian Telugu జన్మదిన శుభాకాంక్షలు / పుట్టినరోజు శుభాకాంక్షలు Thai สุขสันต์วันเกิด (sùk wan gèrt) Tongan Ma'u ha 'aho fiefie Tsotsil Lekuk me ech'an ti avi chlok' ti a jabilale Turkish Doğum günün kutlu olsun Turkmen Doglan günüň gutly bolsun Ukrainian Многая Літа (Mnohaja Lita) = "Many Years" З днем народження (Z dnem narodžennia) Urdu (salgirah mubarak) سالگِرہ مبارک Uzbek Tug'ilgan kuningiz bilan! Vietnamese Chúc mừng sinh nhật Volapük Motöfadeli yofik Welsh Penblwydd Hapus Xhosa Imini emnandi kuwe Yiddish (A freilekhn geburtstog) א פריילעכן געבורצטאָג (Mazl-tov tsu dayn geburtstog) מזל־טובֿ צו דײַן געבורצטאָג (Mazl-tov tsu dayn geboyrn tog) מזל־טובֿ צו דײַן געבוירנטאָג Yorùbá Ẹ ku Ayọ Ọjọ Ibi Zazaki Roca toya d?nya-amaene bımbareke bo! Zulu Halala ngosuku lokuzalwa
Browse stunning designs, created by our community of independent artists around the world!
There are no reviews for this product yet.
Product ID: 137024732750465125
Designed on