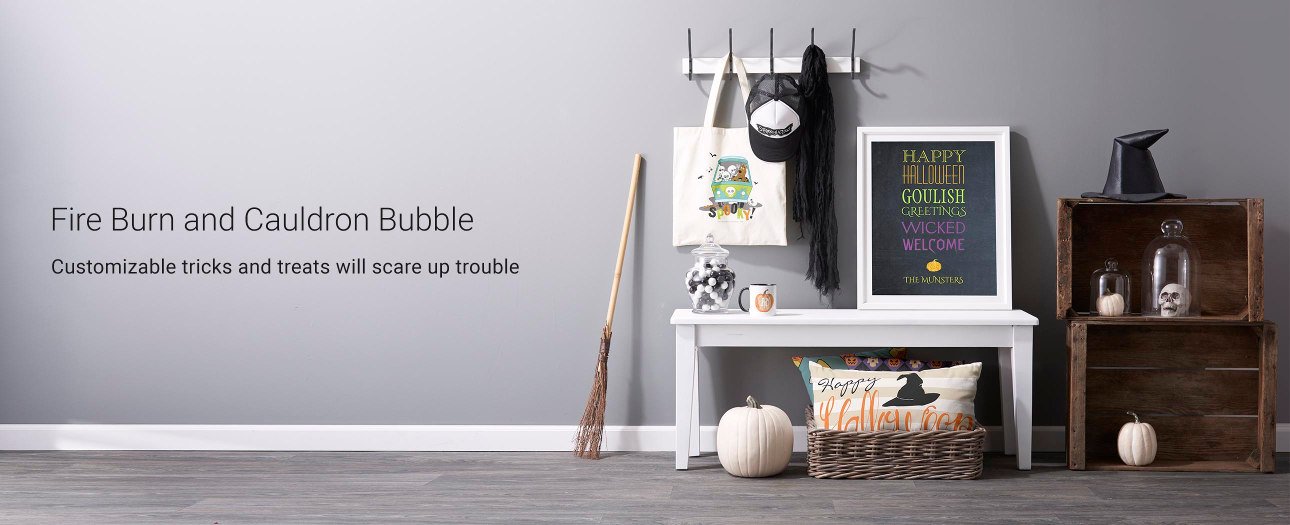 Plan a frightfully fun Halloween party with custom invitations, napkins, paper plates, paper cups banners and so much more. Add a ghoulish touch to your home décor with easy-to-customize Halloween decorations, from pumpkin pillows to trays for treats. Looking for a simple, no-sew DIY costume idea? Check out our selection of funny Halloween t-shirts that will fit the tiniest to the tallest trick-or-treater!
Do you have a friend born around Halloween, or just the annual Halloween party to go to? Want to be able to find a Halloween gift that really goes with that one friend's wacky Halloween costume? Or maybe you just want to get them a present that will scare the daylights out of them! You have come to the right place.

Here at Zazzle we have thousands of different Halloween gifts, from bat mugs and spider hats to personalized trick or treat tote bags, so you are sure to find something to go with that friends Halloween costume; whether they dress as a tomato or a giant squid, the possibilities are endless! We even have some Halloween pillows that you can hide behind when things get too scary during movie night.

Now that you have your awesome Halloween gifts sorted, it's time to get ready for the big night itself. Why not check out our selection of Halloween party clothes. We think it's your turn to have the wackiest costume of the night. And don't forget to pick up some Halloween invitations for your own bash while you're here!

Wicked Reviews from our Customers:
"Excellent"
I am so happy with it, I'm getting a lot of second takes on it, I have not seen this at all here in Canada. I am very happy with my purchase. It has turned out just great!

"Nice quality"
I had been searching for this item for a while, I found them on your site and was very very pleased with the product. Thanks so much.

"Beautiful colours"
The product was as indicated, I was kept informed of the progress from printing to shipping. The products arrived as ordered, and in a short turnaround. I would recommend this company. The printing turned out very well.
Popular Halloween Designs
Trending Categories