GMT 24 Heures Project Pop Psychedelic Frames S C Canvas Print
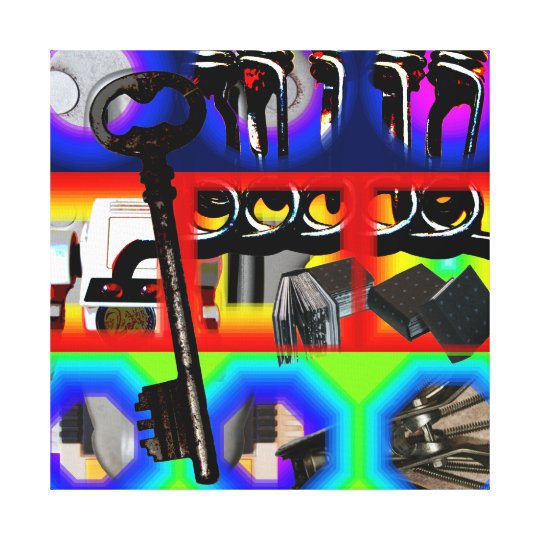 Media Type: Premium Wrapped Canvas (Gloss)
Zazzle's matte canvas is made from an acid-free cotton-poly blend and features a special ink-receptive coating that protects the printed surface from cracking when stretched. Made with a tight weave ideal for any photography or fine art, our instant-dry matte canvas produces prints that are fade-resistant for 100+ years.
GMT 24 Heures Project Pop Psychedelic Frames S C Canvas Print
Projet conceptuel utilisant les outils créatifs de Zazzle. Ce projet part de l'idée de proposer aux amateurs d'Art un travail participatif. Pour cela, je propose un cadre (et même plusieurs cadres superposés et légèrement transparents) pour créer une composition unique et originale. Ces cadres sont au nombre de 24 pour les 24 heures de la journée humaine.Ces cadres sont de formes géométriques: cercle, carré et octogone. Les cercles se déclinent en dégradé dans les tons de bleu et de pourpre, les carrés dans les tons jeunes orangés et les octogones passent du vert au violet en passant par le bleu.Le choix des couleurs et des formes s'accordent en 3 types de "moment" constituant un jour: soit 8heures de sommeil, 8 heures de travail et 8 heures de "détente", les repas sont comptés dans ce moment détente A cela s'ajoute 7 "Objets" (à la fois des objets que j'ai possédé ou qui étaient chez moi, que j'ai pris en photo et quelquefois des morceaux de mes propres travaux: ici il s'agit d'un série de livres miniatures. Chaque élément (cadre coloré et objets) sont modifiables en taille, ils peuvent être changés de place. Ainsi on peut modifier l'ordre des superpositions de couleur. Avec 31 calques les possibilités deviennent énormes. Ce premier panneau est un panneau test, qui me permettra d'affiner et de modifier mes images. L'idée de départ étant plus complexe et faisant intervenir les fuseaux horaires du lieu des amateurs d'Art potentiels, je n'ai conservé que les cadres. Ici Détail des 3x9 pour évoquer les 3x8 ("Le système des 3×8 est mis en place dans les entreprises pour répondre idéalement aux besoins de leurs clients. Du côté des salariés c'est un rythme particulièrement difficile et parfois cela peut être néfaste à la santé si l'on a une vie incompatible avec ce système ou si l'on a une petite santé."). A chacun de remplacer les images pour "illustrer" sa propre vie...

Artwork designed by
There are no reviews for this product yet.
Product ID: 192685898414493694
Designed on