Browse stunning designs, created by our community of independent artists around the world!
Diamond Personalized 60th Anniversary Gifts CLOCK
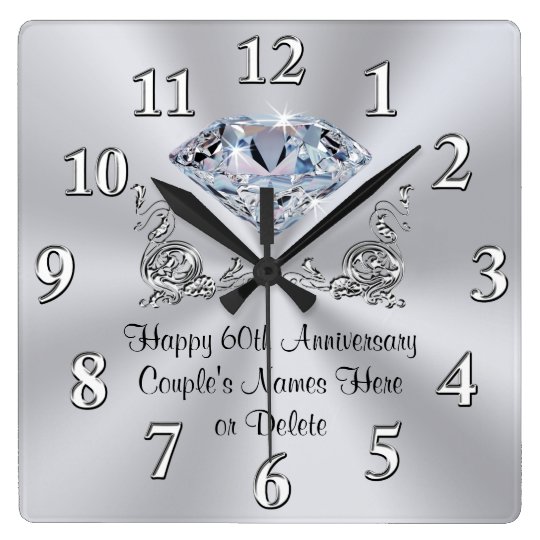 Details
Details
Details

Style: Square
It's time to show off your favorite art, photos, and text with a custom square wall clock from Zazzle. Made for any wall, this clock is vibrantly printed with AcryliPrint®HD process to ensure the highest quality display of any content. Order this custom square wall clock for your home or give to friends and family as a gift for a timeless treasure.
Size 10.75" x 10.75".
Material: Grade-A acrylic.
One AA battery required (not included).
Add photos, artwork, and text.
Diamond Personalized 60th Anniversary Gifts CLOCK
Stunning Diamond Personalized 60th Anniversary Gift Ideas CLOCKS are affordable and Gorgeous. For special Personalised 60th Anniversary gifts or Change to 75th wedding anniversary gift or lovely 75th birthday gifts for wife, mom, her. Type in your text or delete it. Personalized Diamond Wedding Anniversary Gifts for couples, your wife and mother, grandmother and your friends and family will LOVE it. Call the Designer Linda for HELP, Year and or Colour Changes: 239-949-9090 To create this beautiful Personalised Sixtieth Diamond Anniversary Clock for your family and friends, Type in the Couple's Names, Wedding and or Anniversary Date and or Your Text. DELETE any or all of the temporary text on these beautiful personalized sixtieth anniversary presents. Silvery colours enhance the gorgeous Diamond Anniversary Symbol for Sixtieth Wedding Anniversary Gifts or Any Year, Colour and Gemstone, as available. CallDesigner Linda for assistance and Design CHANGES: 239-949-9090 Call Designer Linda to assist you in personalising 60th wedding anniversary gift or for year, colour or design changes: I can change the Happy 60th Anniversay message to ANY YEAR, COLORS and PRODUCT. 239-949-9090 I can design these 60th wedding anniversary presents for ANY YEAR, COLOR and Change the Personalized Diamond Wedding Anniversary Symbol to a different Gemstone, as available for couple's married 60 years or any year anniversary. What is the Gemstone for 60th wedding anniversary? Diamond Gemstones ate the traditional 60th wedding Anniversary Symbol. It is also the Gemstone for 75th Wedding Anniversary. For Personalized Wedding Anniversary Gift Design CHANGES and for HELP, Call me, Designer Linda at: 239-949-9090 Gorgeous monochromatic colours of silver on silver grey tones with gleaming diamond image is "oh so beautiful" and elegant wedding anniversary gifts". Personalised Diamond wedding anniversary gifts for mum and dad, grandparents, wife and friends. Designer Linda can design these sixtieth anniversary clocks design on ANY of our HUNDREDS or GIFTS in any colour for any year: 239-949-9090 Linda can change the Anniversary Yesr, Gemstone (as available) to your wedding Anniversary Colours to ANY background and text colours or I can place my Personalised wedding anniversary gift designs on any of the customizable products. What is the 60th Wedding Anniversary Symbol? Gorgeous DIAMONDS! I can change the Diamond to a different Anniversary Gemstone, as available. Inexpensive yet unique Sixtieth wedding anniversary presents with gorgeous Diamond Anniversary GEMSTONE image. Anniversary home decor won't take up space on your grandparents counter or furniture because it will adorn their wall in any room. 61st Anniversary, 62nd anniversary gifts, 63rd anniversary, 64th wedding anniversary, etc. Many consider any wedding anniversary over 60 years is considered Diamond Anniversary Gemstone symbol. 239-949-9090 Gorgeous printed PERSONALISED Diamond gifts representing couple's 60th wedding anniversary gemstone. Free design service to create your 60th wedding anniversary party ideas on hundreds of our products. Personalized Anniversary 60th Gifts or ANY YEAR and ANY COLORS. CALL Designer Linda at: 239-949-9090 Lovely Silvery colour satin looking grey toned coloured background with stunning faux Diamond and Swirls Printed Personalized 60th Anniversary Clocks or DELETE any or ALL of the Temporary TEXT completely. Look at your Sixtieth Anniversary Clock to be sure all temporary text is gone. What you see is what you will receive. Unique 60th Anniversary Gifts for Couples, Mom and Dad and Grandparents and Friends. Personalised Sixtieth Wedding Anniversary Gifts for Grandparents, Parents, Friends and your special family members. CALL Designer Linda at: 239-949-9090 Give Linda a Call to custom design, at no extra charge, personalized sixtieth anniversary gifts and 60th anniversary party supplies. I can change the colour theme and the year, for any year Anniversary, Birthday, Retirement gifts and more. Please COPY and PASTE this 60th Wedding Anniversary Link to see more beautiful and unique 60th anniversary gifts. http://www.zazzle.com/littlelindapinda/gifts?cg=196934430426331981&rf=238147997806552929 For fastest service, CALL or TEXT Linda for Special Custom Orders or if you want me to make changes to my designs for you or put the design on a different product. Custom Sixtieth Wedding Anniversary Gifts or I can design it in any colour for any year in any of our hundreds of customizable products. You can click the customize it button and click the tiny eye dropper tool under "Printed background colours" and select a colour box or call Linda: 239-949-9090 Zazzle.com/LittleLindaPinda* LittleLindaPinda@gmail.com CALL or TEXT Little Linda Pinda: 239-949-9090 Unique Diamond Anniversary presents for a special anniversary memory that will warm the anniversary couple's heart. Personalized Anniversary Clocks representing their huge milestone Diamond Wedding Anniversary. Stunning Diamond colour can be changed to any colour. Any Year Diamond birthday or Diamond themed wedding gifts. CALL Designers Linda to create this in any colour for any year anniversary. Linda 239-949-9090 Personalized Sixtieth wedding anniversary gifts for couples, your wife, friends and family. Everyone will absolutely love the beautiful diamond anniversary clock customized with their names and or dates or your special message or just delete any or all temporary text. Personalised 60th Wedding Anniversary Gifts can be shipped almost anywhere in the world, such as: UK, Europe, Australia, North and South America, Central America, Asia, etc. Call designer Linda for design changes or help customizing it. I can place this design on any or our gifts including but not limited to, invitations, stamps, porcelain plates, personalised anniversary gifts and more. Free custom designing on any of my Diamond anniversary presents or hundreds of other anniversary, birthday or other special celebration for couples married 60 years or ANY YEARS, COLORS, PRIDUCTS. Call Designer Linda: 239-949-9090 Gorgeous diamond wedding anniversary gifts for friends and your family. Beautiful, Unique and Personalized with a lovely image of a diamond. 239-949-9090 Call Linda to create any year wedding anniversary gifts in any colour. 239-949-9090 Please call Linda to place this gorgeous unique diamond anniversary design on any or our hundreds of gifts, anniversary invitations and diamond anniversary party supplies. CALL Linda: 239-949-9090 For Help and Customization to any of my designs or for help personalizing our diamond wedding anniversary gifts, please CALL Designer Linda at: 239-949-9090 Call Linda to change any of our personalised anniversary gifts by the Year for ANY YEAR in ANY COLOR combinations. Many gemstones available. Zazzle.com/LittleLindaPinda* Call Linda at: 239-949-9090
Browse stunning designs, created by our community of independent artists around the world!
There are no reviews for this product yet.
Product ID: 256182564313123775
Designed on