Other products you might like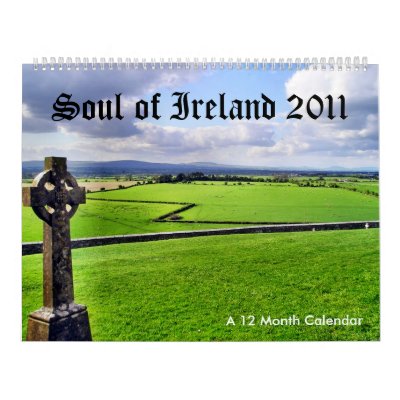 The soul of Ireland is her spiritual places. The green hills are embroidered with ancient abbeys, cathedrals, monasteries, oratories, chapels, churches, round towers and Celtic crosses. Some are ruins while others are still very much a part of Irish life today. Journey with me through the Emerald Isle to visit the glorious soul of Ireland. The stunning Rock of Cashel in Co. Tipperary crowns a hill overlooking Ireland's Golden Vale. Quin Abbey in Co. Clare is hidden in the quiet countryside watched over by a serene statue of Mary. Glendalough in Co. Wicklow has stunning mountain scenery, a round tower, churches, a cathedral and an amazing gateway - all scattered throughout the Valley of the Two Lakes. St. Finbarr's Oratory in Gougane Barra Co. Cork is a charming little chapel on an island in a lake that is still used for weddings today. Clonmacnoise in Co. Offaly is a very important monastery that sits on the banks of the River Shannon. The Rock of Dunamase overlooks the tiny Holy Trinity Church in Co. Laois. Armoy in Co. Antrim has a lovely church, cemetery and round tower. The Romanesque ruin of Kilmalkedar on the Dingle Peninsula in Co. Kerry reveals ancient stones, carvings and legends. Killarney's St. Mary's Cathedral is a graceful edifice on the edge of Killarney National Park. In the perfect market town of Hillsborough in Co. Down in Northern Ireland St. Malachy's Church is set down a long tree-lined avenue near the fort. This calendar is perfect for anyone of Irish descent or those who love Ireland. Great for inexpensive gifts, stocking stuffers, St. Patrick's Day or any occasion. CUSTOMIZE IT! Add your own name or text. Choose from various sizes. Change the date to a different year with the custom edit feature. © Michele Erdvig www.IrelandYes.com




Loading High Resolution...
Loading High Resolution...
Loading High Resolution...
Loading High Resolution...
Loading High Resolution...
Loading High Resolution...
Loading High Resolution...
Loading High Resolution...
Loading High Resolution...
Customize it!
No minimum orders • No setup fees • The most options!
Two Page
Make every day count with your custom calendar. Add your own special photographs, images, and text for each month of this two-page calendar. Start your design from scratch or customize your choice of unique templates.
High quality, full-color, full-bleed printing.
Choose from 13 unique styles for dates and holidays.
Optional start and end dates.
Wire-o binding in 7 different colors.
Available in three sizes – Standard, Small, and Huge.
Soul of Ireland 2011 Calendar
In stock!
Temporarily sold out
Qty:
Qty:
The value you specified is invalid.
Only in bulk!
| | |
| --- | --- |
| Date Style: | |
| Start Date: | |
| End Date: | |
| Events: | |
Information from the Designer
Soul of Ireland 2011 Calendar
The soul of Ireland is her spiritual places. The green hills are embroidered with ancient abbeys, cathedrals, monasteries, oratories, chapels, churches, round towers and Celtic crosses. Some are ruins while others are still very much a part of Irish life today. Journey with me through the Emerald Isle to visit the glorious soul of Ireland. The stunning Rock of Cashel in Co. Tipperary crowns a hill overlooking Ireland's Golden Vale. Quin Abbey in Co. Clare is hidden in the quiet countryside watched over by a serene statue of Mary. Glendalough in Co. Wicklow has stunning mountain scenery, a round tower, churches, a cathedral and an amazing gateway - all scattered throughout the Valley of the Two Lakes. St. Finbarr's Oratory in Gougane Barra Co. Cork is a charming little chapel on an island in a lake that is still used for weddings today. Clonmacnoise in Co. Offaly is a very important monastery that sits on the banks of the River Shannon. The Rock of Dunamase overlooks the tiny Holy Trinity Church in Co. Laois. Armoy in Co. Antrim has a lovely church, cemetery and round tower. The Romanesque ruin of Kilmalkedar on the Dingle Peninsula in Co. Kerry reveals ancient stones, carvings and legends. Killarney's St. Mary's Cathedral is a graceful edifice on the edge of Killarney National Park. In the perfect market town of Hillsborough in Co. Down in Northern Ireland St. Malachy's Church is set down a long tree-lined avenue near the fort. This calendar is perfect for anyone of Irish descent or those who love Ireland. Great for inexpensive gifts, stocking stuffers, St. Patrick's Day or any occasion. CUSTOMIZE IT! Add your own name or text. Choose from various sizes. Change the date to a different year with the custom edit feature. © Michele Erdvig www.IrelandYes.com
Reviews for "Soul of Ireland 2011 Calendar"
Calendar Volume Discounts
Tags
Product Details
Product ID: 158606168067772251
Designed on 27/06/2010 12:16 AM