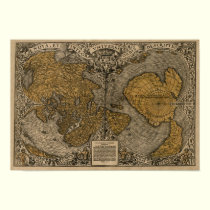 Noua, et Integra Uniuersi Orbis Descriptio, or: New and Complete Description of the World, on a double cordiform (heart-shaped) projection. The Americas are not shown as their own continents, despite the emerging realization that they were not part of Asia.
Vintage World Map Reproduction. High Resolution image suitable for large or small copies. This is a reproduction and may have been digitally enhanced to repair flaws, major stains, etcetera.
Image courtesy of OldBookArt.com. Visit their
Blog
or their
Gallery
to find thousands of other free images and maps from public domain sources.
<centre>
</centre>
Many Images are from Books and Maps for Sale at
ZephyrusBooks.com
.
<centre>

</centre>